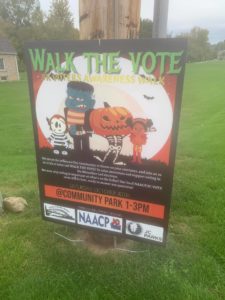 JC Parks has partnered with Building Community Bridges and Jefferson City NAACP for Halloween Walk the Vote to bring awareness to upcoming elections.
The non-partisan event will be held at Community Park, 725 Marshall St., 1:00-3:00 pm on Saturday, October 30, 2021. This special Halloween edition of Walk the Vote encourages participating friends and families to dress up and trick-or-treat during the walk.
Douglas Wright and Alicia Edwards from Building Community Bridges discussed the importance of being registered to vote. Edwards said that event is to raise awareness for the election on November 2. She wants to ensure that the community knows that local elections are just as important as national elections.
Wright said the NAACP has been a good partner for Walk the Vote. He enjoys partnering with organizations that work toward the same goal.
A Monster Mash-Up
Along with Halloween Walk the Vote, JC Parks has enjoyed partnering with both Building Community Bridges and Jefferson City NAACP on past events, including the Community Park neighborhood appreciation event in 2020 and the Juneteenth celebration in 2021. These events promote JC Parks' mission to strengthen the Jefferson City community through quality parks, facilities, and programs that provide equitable, diverse, and inclusive opportunities that create value and inspire physical and mental well-being.
Building Community Bridges is a non-profit organization located at 213 East Ashley St. in Jefferson City, MO. Its mission is to uplift and aid the youth in the community in respect to self-awareness, education, entrepreneurship, and issues that impact their lives. Building Community Bridges has pantry days every Monday 4:30-6:00 pm and every Thursday 10:00-1:00 pm.
Who You Gonna Call?
Find event details at JCParks.com or check out the Facebook event.
Want to learn more about JC Parks' efforts to make Jefferson City parks and programs more equitable, diverse, and inclusive? Contact Laurence Hogg, JC Parks DEI Program Manager, at LHogg@JeffCityMo.org.
About the Contributor
Gracen Gaskins is a Junior at Lincoln University – Missouri, majoring in Journalism. She has contributed work for JC Parks through Project Success, a grant-funded program at Lincoln University Career Center.