The 2020-2021 renovation of the 65-year-old amphitheater at Ellis-Porter Riverside Park is JC Parks' latest park improvement. Its inaugural season will have a full schedule of events, beginning in May 2021. The venue will host concerts, gatherings, and festivals that will draw local, regional, and national talent and visitors. This redesigned open-air space features a modern stage with a backstage area and dressing rooms, pavilion seating for over 500 people, and open lawn seating for over 2,500 people. 
The amphitheater is a great new addition to the park as it gives guests a quality experience in a beautiful setting. The open space provides a fun outdoor experience, and at the same time allowing for evolving social distancing guidelines. With ever-changing COVID protocols, each show will have procedures that meet current requirements. 
JC Parks has teamed up with VenuWorks to program and operate Riverside Amphitheater. There are several exciting summer events in the upcoming months. The season kicks off on May 22 when Jefferson City welcomes Clay Walker and Tracy Lawrence to the Riverside Amphitheater stage.

Artist at the Amp: Clay Walker
Earnest Clayton Walker, Jr. was born on August 19, 1969, from Beaumont, TX. His love of country music started at the age of 9 when his father gifted him a guitar. After graduating high school, he spent three years touring cities in the South, Midwest, and Canada. During this time, he acted as his own team and managed himself up until he was discovered by James Stroud, who signed him to Giant Records. 
Walker is a platinum selling, 31x billboard charting country singer, songwriter, and entertainer. He has several number 1 hits under his belt buckle, including "What's It to You", "This Woman and This Man", and "Rumor Has It". 
Artist at the Amp: Tracy Lawrence
Riverside Amphitheater is getting not just one, but two legends gracing its stage for its first major concert event.
Tracy Lee Lawrence was born on January 27, 1968, in Atlanta, TX. He spent his childhood in Foreman, AR, where he developed a love of music at an early age. He moved to Nashville as a young adult to make a career out of music. While working at a local cafe performing in gigs, Lawrence met talent manager Wayne Edwards, who offered him a record deal with Atlantic Records. 
Lawrence's 40+ chart toppers include "Texas Tornado", "Can't Break It to My Heart", and "Sticks and Stones". The singer, songwriter, and record producer is celebrating 30 years of making country music in 2021 by releasing a three-volume project this year.
More in Store
Make sure to check out the 2021 Riverside Amphitheater line-up at https://www.riversideamp.com/. More show announcements are coming! Sign up for the email newsletter to get the latest updates and exclusive pre-sale access.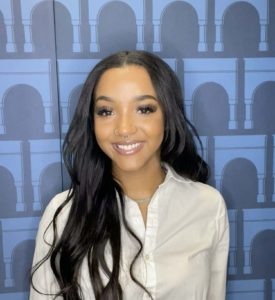 About the Contributor
Darianna McGee is a sophomore at Lincoln University – Missouri majoring in journalism with a double minor in elementary education and marketing. Darianna has contributed work for JC Parks through Project Success, a grant funded program at Lincoln University Career Center.