Watch your local Jefferson City Renegades!
The MINK Leag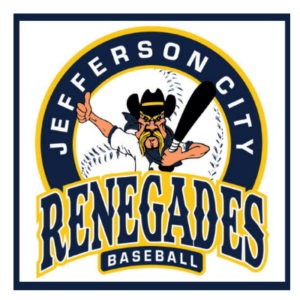 ue is a collegiate wood bat summer league based out of Missouri that has been around since 1910 and bring top prospects to play on its teams every summer.
For the past
 10 years operating baseball teams and organizations, promoting sports and athletics, baseball has been our passion and careers. It is with this experience and passion that we the founders of the Jefferson City Renegades Baseball Club want to bring a professional baseball team, that is community run, to Jefferson City, Missouri and the surrounding communities of the Mid-Missouri region.
Jefferson City Renegades 2022 Season
Cheer on the JC Renegades! Full schedule below.
6/2: Sedalia Bombers
6/3: Clarinda A's
6/4: Clarinda A's
6/8: Sedalia Bombers
6/10: Celebrity Softball/Non-league
6/12: Joplin Outlaws
6/15: Joplin Outlaws
6/17: Sedalia Bombers
6/22: Chillicothe Mudcats
6/23: Nevada Griffons
6/25: Sedalia Bombers
6/26: St. Joseph Mustangs
6/29: Carroll Merchants
7/2: JC Legends
7/6: Nevada Griffons (5 & 6 pm)
7/7: St. Joseph Mustangs
7/8: Des Moines Prospects (5 & 7 pm)
7/9: Non-League
7/14: Chillicothe Mudcats
7/18: Nevada Griffons
7/21: Joplin Outlaws
7/22: Joplin Outlaws
Time: 7 pm
Location: Vivion Field, 1309 Missouri Blvd.
*Game dates are subject to change. For schedule updates, visit jeffcityrenegades.com/news