Pool Features
Get a jump on summer fun at Ellis-Porter Riverside Pool. Located on Jefferson City's historic east end, this pool has a little something for everyone.
Kiddie Area with Fountains and Slides
Zero Depth Entry
Climbing Wall
Diving Board
Drop Down Slide
Alligator and Lobster Stationary Floatables
ADA Compliant Pool Lift
Covered Seating
Concession Stand
Pool Hours
The pool opens for the summer 2023 season on May 27 and closes on September 4.
Lap Swimming is available during public session. There are not roped lanes at Ellis-Porter Riverside Pool due to pool size; lines are painted on pool shell and lap swimmers may encounter other swimmers. Lap swimmers needing designated lanes roped off may visit Memorial Park Family Aquatic Center.
Not able to view the above calendar? Click here to access Ellis-Porter Riverside Pool's public session hours.
Admission Fees
All patrons entering the pool facility are required to pay the admission fee, even if they are only planning to observe. Children under 12 months of age are free.
Season Passes
Season Passes are available for individuals and families. Purchase your passes at The LINC. Season passes can be used at both pools. Passes are non-transferable.
*Family passes are priced for 4 people with each additional member costing $30. 
Group Rates
Groups of 20 or more are eligible to receive a $0.50 discount for each admission. Groups are required to schedule in advance to receive the discount. Contact the manager of Ellis-Porter Riverside Pool at (573) 634-6585 to schedule your group.
Pool and Facility Rentals
Looking for the perfect location for your little one's summer birthday? We offer birthday packages that are sure to multiply their fun in the sun. We also offer hourly and evening pool rentals for after-hour parties.
Policies and Procedures
Please review our policies and procedures before you visit. Please call (573) 634-6585 if you have any questions.
General Rules
Profane language is not allowed in the pools. If you choose to use this type of language you will be asked to exit the facility for the day without a refund.

Any individual wearing street clothes will not be allowed admission into the facility, unless you're a parent or guardian of a child 12 years or younger.
Appropriate swim attire must be worn. This includes male swim trunks, female one and two piece suits and tank-inis. Suits should not be see through. No thongs, long pants, inappropriate language, jean shorts or shorts with belt loops or rivets and anything else deemed not appropriate by the management staff.
Certified lifeguards are on duty at all times for your safety.
Children 12 years and under MUST be accompanied and supervised by a person 15 years of age or older.
Outside food, drink, coolers or glass container are not allowed into the pools. Both pools have concession stands to meet your needs.
Pool patrons are not allowed to leave the pools.  Exceptions will be made for adults with managers approval.
Parks and Recreation reserves the right to check baggage if deemed necessary.
Persons must be able to swim to use any waterslides.
During periods of low attendance, various attractions and/or pools within the complex may close.
During periods of extreme heat or high temperatures, staff will take 10 minute safety breaks throughout the day to clear the pool.
Parks and Recreation is not responsible for lost or stolen items. Coin operated lockers are available at each facility.
Paging of patrons is NOT permitted. It is the responsibility of pool patrons to make communicative arrangements prior to entering.
Smoking/vaping of any kind is not permitted anywhere in the pool complex or parking lot.
Any person under the influence of alcohol or drugs will not be permitted into the facility.
It is the responsibility of the patrons when entering the facility to read and obey all posted signs for safety.
No voluntary breath holding allowed.
Lifeguards and Managers have final authority.
Flotation Devices
US Coast Guard approved floatation devices only.  Lifejackets available for use at front desk.
Water wings and small inner tubes are permitted if parent/guardian is within arms reach of the child.
Rafts and large inner tubes are NOT PERMITTED.
Noodles are allowed into the facility.
Infants & Illness
Close-fitting swim diapers are required for all children who are not potty trained. Swim diapers are available at the admission gate for a nominal fee.
Diaper changing stations are available in the restrooms. Please use these when changing your child's diaper.
Children 12 months and under are free during public hours.
If you, your child or anyone in your family has had diarrhea in the past two weeks, please do not use the pool.
Inclement Weather
Pools are open daily except during threatening weather (thunderstorms and lightning) or when the projected high air temperature is 74 degrees or cooler.
If the pool closes early because of inclement weather, refunds will not be issued. 
Clear Bag Policy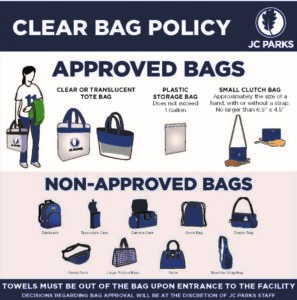 JC Parks will implement a clear bag policy at its pools during public session hours.
This policy supports our priority to create a fun and safe environment for our pool guests and staff.
Each patron may bring one clear or mesh bag of any size. Patrons may also bring in a small clutch that does not exceed 4.5" x 6.5".
Clear bags are available for purchase at both pools.
Non-Approved Bags
• Back Pack
• Camera Case
• Cinch Bag
• Tinted Plastic Bag
• Printed Pattern Plastic Bag
• Fanny Pack
• Oversized Tote Bag
• Diaper Bag
• Purse measuring larger than 4.5″ x 6.5″
Clear Bag FAQs

Q. Will I be able to purchase a clear bag at the pool?
A. Both pools will have reusable clear totes available for
purchase at the admission gates.
Q. What do I do if I have medical equipment that doesn't fit in
the permitted bags?
A. Pool staff will be on-hand to assist guests who have
medically necessary items, including breastfeeding supplies.
Refrigeration is available if needed.
Q. What about beach towels?
A. We ask that guests remove towels from their bags and carry
towels over their shoulders or arms when entering the facility.
Q. Are diaper bags allowed?
A. No. Any supplies needed are required to be in a clear bag.
Each member of a family, including children, will be allowed to
bring an approved clear bag and a clutch purse into the pool.