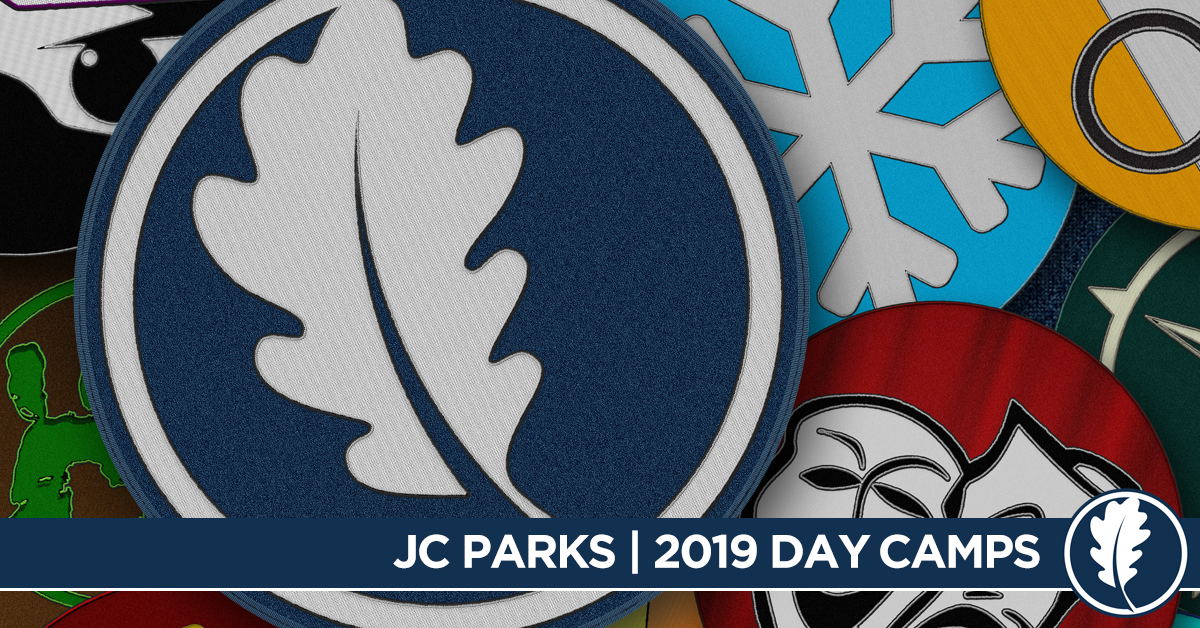 What are the top three things to consider when choosing JC Parks Summer Day Camps for your child? Their age, their interests, and your morning commute!
Children of different ages going to different camps? Dropping off before work? Want camps close to home? No matter your situation, we're here to help streamline your mornings. This guide breaks our camps down by location, so you can see which camps will work best for your family. Simply follow the links to find drop-off times and other important camp details.
Grab your calendar and start planning with your commute, and sanity, in mind!
Central Drop-Off at The LINC
In addition to hosting our newest day camp, The LINC is a drop-off location for 3 other camps! You can drop your child off anytime between 7:15am and 8:00am and we will bus them to Memorial Park or Binder Park. This is the perfect option for parents who have kids attending different camps! The following camps allow drop-off at The LINC:
May the Forest Be With You | Grades K-5 | The LINC, 1299 Lafayette Street
This camp will be packed full of crafts, games and activities from Star Wars movies. Lots of fun, you will have!
Binder Adventure Camp | Grades 4-5 | Binder Park, 5840 Rainbow Dr
Campers will learn outdoor skills including canoeing, fishing, and fort building. This camp also features Friday cookouts, a confidence course, hiking, nature study, and more.
Binder Adventure Camp Level II | Grades 6-7 | Binder Park, 5840 Rainbow Dr
Formerly known as 'Camp Eagle,' this camp offers the same activities as Binder Adventure Camp, with a few extra challenges that older campers will appreciate.
Camp Wokka Wokka | Grades K-3 |Memorial Park Pavilion, 2214 West Main Street
Activities include arts and crafts, games and physical activities, a cookout, hikes, nature study, field trips, and much more.
West End
If you live or work on the West end of town, make your drive a little easier with these camps:
Binder Adventure Camps (Levels I & II) | Grades 4-7 | Binder Park, 5840 Rainbow Dr
In addition to drop-off at The LINC, you can also take your camper directly to Binder Park Pavilion.
Camp Wokka Wokka | Grades K-3 | Memorial Park Pavilion, 2214 West Main Street
Just like Binder Adventure Camp, you can choose between dropping your child off at The LINC or taking them straight to Memorial Park.
Camp Frost | Grades 1-6 | Washington Park Ice Arena, 711 Kansas Street
This day camp offers activities to keep kids moving and having fun. Most special to this camp are built-in ice-skating lessons and plenty of time to practice throughout the week.
Kids Art Camp | Ages 7+ | Capital Arts Gallery, 1203 Missouri Boulevard
Kids will be given instruction on many different types of mediums such as painting, exploring with paper, printmaking, drawing and more.
Capital City Productions Camp | Grades 5-13 | Capital City Productions, 1200 Linden Dr
CCP Presents Cinderella Jr! Cast members will have on-stage and backstage tasks that will bring forth the show in the two-week time frame.
Mountain Bike Camp | Ages 8-14 | Binder Park, 5840 Rainbow Dr
Campers will learn the FUN-damentals and safety of off-road cycling including: starting, stopping, shifting, turning, pedaling, bike maintenance, trail safety, LNT principles and much more.
East End
If you spend most of your day on the East side of Jefferson City, these camps may work better for you and your little ones:
Camp Out N About | Grades 1-6 | Ellis-Porter Riverside Park, 1425 Riverside Dr
Campers will have the opportunity to play a variety of recreational games and sports. Each week, we will take a field trip "out and about" in the community.
Camp Green Berry | Grades 1-5 | Green Berry Acres Park, 1917 Green Berry Rd
In addition to fun games and activities, youth attending will be able to learn about the natural environment and our place within it.
Adventures in Science | Grades 2-6 | McClung Park Indoor Pavilion, 1115 Chestnut Street
Adventures in Science is a unique project-based learning experience that will stimulate your child's natural curiosity.
Visual Art Academy | Ages 7-14 | McClung Park Indoor Pavilion, 1115 Chestnut Street
Classes consist of hands-on painting, drawing, cartooning, clay and many other mediums taught by local professional artists and art teachers.
Capitol Kids Camps | Ages 5+ | Capital Kids LLC, 1911 Ford Street
Ninja Warrior Campers will face the American Ninja Warrior-style obstacle courses. Cheer Campers will learn fun cheers, chants, stunts, jumps, and dances.
Showdown Theater Camps | Grades 2+ | Selinger Center at St. Peter Church, 216 Broadway
Showdown programs are taught by working industry pros who bring their expertise to a safe and supportive environment. Campers gain valuable skills that apply to all stages of life.
Showdown Film Academy | Ages 13+ | Avenue HQ, 621 E. Capitol Ave.
This two-week film camp that provides a hands-on foray into the world of film production. In addition to classes with industry pros, you will be part of every aspect of the process.
Over the River
Does your morning drive take you across the bridge? We also offer camps at the North Jefferson Recreation Area.
LEGO Camp | Ages 5-12 | Cedar City Room at North Jefferson Recreation Area, 810 Sandstone Street
Campers will develop problem solving and critical thinking skills while learning concepts and vocabulary associated with Engineering, Architecture, and Physics.
Hula Hoop Dance Revolution Camp | Ages 8+ | North Jefferson Recreation Area Pavilion, 927 4th St
Campers will learn the art of hula hoop dancing and get the opportunity to showcase their progress at the end in a professionally choreographed hoop dance routine.

There's no need to over-complicate your morning when we offer camps all around Jefferson City! Considering your commute now will make everyone a little happier when camp drop-off rolls around.