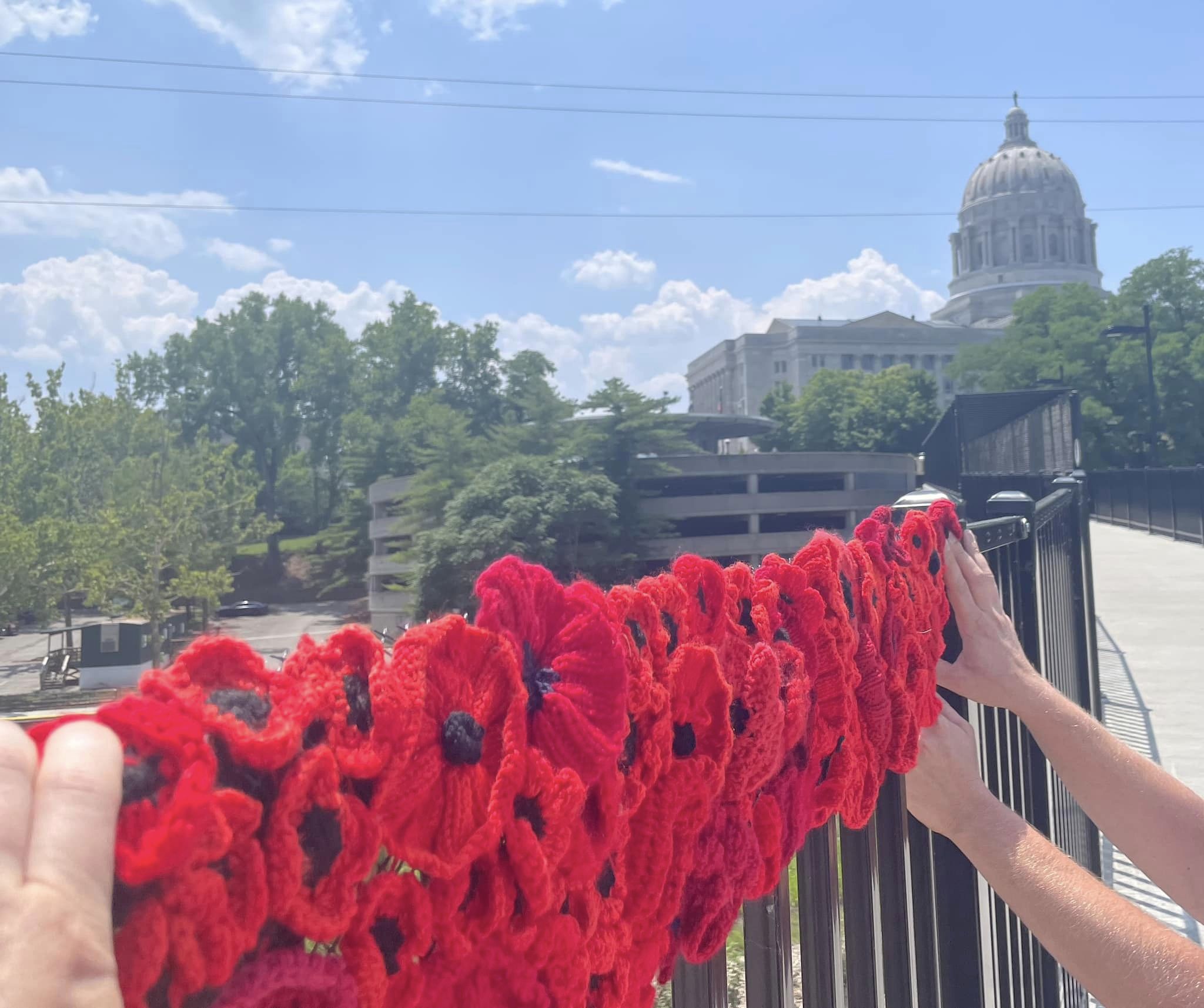 A Close-Knit Community Effort
Poppies to the Park is a community art project to commemorate our veterans. Thousands of knitted and crocheted poppies made by members of local and global communities will create garlands to be installed on the Bicentennial Bridge in Jefferson City's Deborah Cooper Park on Adrian's Island.
Poppies will be installed in time for Veterans Day on November 11, 2023, and remain in place for viewing through Thanksgiving.
Poppies to the Park is made possible by Jefferson City Rotary Clubs with support from JC Parks, Missouri River Regional Library, and community members like you!
25,000 poppies. How are we going to make that happen? One poppy at a time. 
Materials and Patterns
Remembrance poppies are red or red/orange so the poppies should be a shade of red or orange but not burgundy or peach colored.  The slight variations of color, texture, and size will enhance the look of the project.
Poppies should measure 2 – 4 inches in diameter. Yarn tails should be left on the poppies – this will help us attach the flowers to the garland.
There are several patterns available online. Here are a couple to try out, but any knit or crochet poppy pattern is acceptable!
Drop-Off Locations
Poppies will be accepted through October 23, 2023 (but we'll take them sooner!). When dropping off your poppies, please include a note including your name, mailing address, and the number of poppies being donated. This will help us track our progress…it's A LOT of poppies! Your information will not be shared with any other parties.
As poppies are received and garland sections are completed, they will temporarily be on display on the walking track railing at the Linc until installed on the Bicentennial Bridge. This will serve as our gauge and help spread awareness of the project.
Collection Sites (click the location name for drop-off hours)
The Linc
Attn: Leann Porrello
1299 Lafayette St.
Jefferson City, MO USA 65101
Missouri River Regional Library
214 Adams St. 
Jefferson City, MO USA 65101
Osage County Library
22 Library Lane
Linn, MO USA 65051
Additional drop-off locations may be available in the future. Check back soon! 
Project Goals
The Poppies to the Park project has three goals for different sections of the Bicentennial Bridge. This project is anticipated to grow year to year. The garland can be reused each year. Some poppies will need to be replaced over time. In future years we hope to line the railing on both sides of the bridge.
Goal 1: The Arches – 13,000 poppies. There are 21 "arches" enclosing the bridge over the railroad tracks measuring 31 feet in length. Approximately 620 poppies are needed to cover each arch.
Goal 2: The Entrance Railing – 1,700 poppies.  – 85 feet of railing lead to the covered portion on the west side of the bridge.
Goal 3: The Slope – 10,100 poppies. 503 feet of railing is the remaining length of the western rail of the bridge from the bridge gates to Deborah Cooper Park on Adrian's Island. This is the longest portion of railing and is separated into 8-foot sections. One 8-foot section requires approximately 160 poppies.
Important Dates
Now – October 23, 2023: Poppy donations accepted
Saturday, September 3, 2023: poppy making workshop at FiberFest
Friday, November 10, 2023: Rotary Club installation
November 11-27, 2023: Poppies to the Park on display
How to Help
Be a Poppymaker 
Whether you make one poppy or one hundred, any amount you donate will help! For tha real MVPs (most voluminous poppymakers), a group or organization can make the Poppy Pledge by committing to either adorn an entire arch (approximately 620 poppies) OR an arch section (approximately 200 poppies). 
Once this goal is met, the Poppy Pledge will extend to the 8-foot rail sections.
Be a Poppy Patron
If time and talent are a challenge, your gift of treasure is just as appreciated. Monetary donations will help event organizers create poppy assembly kits that will be distributed to area assisted living facilities, whose residents are excited to put their knitting needles to good use! Donations are accepted through the JC Parks Foundation online or by check to:
JC Parks Foundation
1299 Lafayette St.
Jefferson City, MO 65101
Attn: Poppies to the Park 
The project's Who, What, Where, and How are covered. Learn about the Why.
Why this project?
A local Jefferson City Rotary Club member was inspired by the project of a Rotary Club in Australia. The Australian Rotary club lined their town's bridge with poppy garland on ANZAC Day. ANZAC stands for Australian and New Zealand Army Corps. ANZAC Day first commemorated soldiers who fought in the Gallipoli, Turkey campaign during World War I. ANZAC Day has expanded to include service personnel from all conflicts and holds a similar significance as Memorial Day does in the United States. Members of the Australian Rotary Club have also supplied poppies for our project!
Why the Bicentennial Bridge?
The Bicentennial Bridge trailhead is near two veteran memorials. The Bicentennial Bridge trailhead adjoins the Missouri Veterans Memorial at the state capitol and visitors pass the Gold Star Families Memorial to access the Bicentennial Bridge to Deborah Cooper Park on Adrian's Island.
Why poppies?
The red poppy is a worldwide symbol of remembrance for military personnel. Poppies germinated in the wartorn fields of Belgium during World War I which inspired John McCrae to write the poem "In Flanders Fields". Many veterans organizations sell poppies to be worn around Veterans Day as a way to raise funds, awareness and commemorate those who served.
Why Veterans Day?
What we know in the United States as Veterans Day was originally known as Armistice Day. Held annually on November 11 to commemorate the end of World War I, the day eventually expanded to include veterans of all conflicts.
13,000 poppies are needed to meet the first goal of covering the 21 arches supporting the covered bridge over the railroad tracks. Each arch measures 31 feet in length and will need 620 poppies for each arch.  Every 5% increment means a poppy-covered arch.