The JC Parks Commission administers major capital improvements and plans throughout the Jefferson City park system. Listed below are all major projects and plans currently under construction, in the planning stages, or completed. 
Washington Park Skate Park
Washington Park skate park will receive  repairs to concrete structures and several new obstacles, including half pipe, quarter pipe, bank ramp, pyramid corner, and grindbox. Anticipated completion is spring 2023.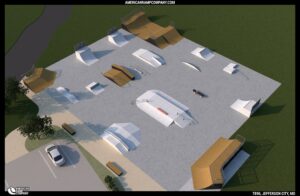 Washington Park Pickleball Complex
Duensing Field in Washington Park will be renovated into a dedicated outdoor pickleball complex. Design development and construction document services were approved at the December 2022 JC Parks Commission meeting. Deliverables include court hardscape and softscape plans; signage design locations; pickleball area features and materials cut sheets, landscape lighting and fixtures selections. Anticpated completion of this design phase is 
Washington Park Bike Park
At the February 14, 2023, JC Parks Commission meeting, commission members approved the final design and construction of Phase 1 bike park site plan in Washington Park. This phase includes an asphalt pump track, progressive jumps start mound, beginner jump line, intermediate jump line,  return line, and signage.
Anticipated completion date is summer 2023.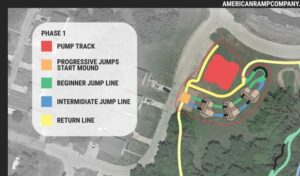 63 Diamonds Improvements
Several improvements will be made at 63 Diamonds Sports Complex.
Additional concrete around the concession stand and home plate area on all fields,
Warm-up areas for pitchers
Exterior painting of concession stand
Work to begin in February 2023.
CRMU Amphitheater Improvements
The amphitheater and surrounding park will see the following improvements in 2023:
A permanent restroom building and enclosed storage facility will be installed in the multi-use plaza area.
Primary signage will be installed at the Grant Street park entrance and wayfinding signage will be located throughout the park.
Trail enhancements will better connect visitors from parking areas to entry gates.
Stage canopy hoist system.
Hickory Adams Neighborhood Playground
Replacement of current playground equipment and court. Anticipated completion is spring 2023.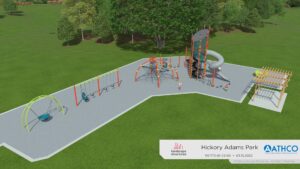 Outdoor Fitness Court
An Outdoor Functional Training Station (FTS) is a highly customizable multi-station built for year-round use in a commercial setting. MoveStrong blends the best of old-school calisthenics with the latest in Functional Fitness Training in an all-in-one station. Built to size and specific training features to accommodate any space and user abilities. Great for individual and group fitness boot camp-style workouts. 
The outdoor fitness court will be located along the greenway at The Linc. Anticipated completion date is spring 2023.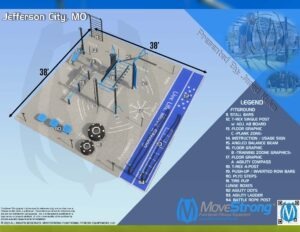 Jefferson City Botanical Garden Pilot Project
At the February 14, 2023, JC Parks Commission meeting, commission members approved landscape architectural professional services for design development and construction documents for the Jefferson City Botanical Garden Pilot Project at Ellis-Porter Riverside Park.
Work will begin in February 2023. Estimated completion of design development and cost estimation is May 2023. Construction documentation is expected to be complete in July 2023. 
Deborah Cooper Park Improvements
Development on Deborah Cooper Park on Adrian's Island continues since opening in December 2021. 
Restrooms TBD.
Light fixtures will be installed along the pathway.
Grant Street Improvements
City of Jefferson Department of Public Works and JC Parks made several improvements along Grant Street, the main entrance into Ellis-Porter Riverside Park. Work started early April 2022 and was complete in September 2022.
Project Elements
Construction of a sidewalk along the western side of Grant Street.
Sidewalk in the Park from the intersection of Grant Street and Ellis Porter Drive to the sidewalk near the pool.
Construction of numerous retaining walls.
Widening of Grant Street and a portion of Ellis Porter Drive to accommodate a central island approaching the park.
Stormwater inlets will be replaced near Hough Street and an inlet will be added near Lake Street.
The intersection at Grant Street/East McCarty Street and the intersection at Lake Street/Hough Street/Grant Street will be reconstructed to for ADA compliance.
The whole of Grant Street will receive an asphalt overlay.
Deborah Cooper Park on Adrian's Island