The JC Parks Commission administers major capital improvements and plans throughout the Jefferson City park system. Listed below are all major projects and plans currently under construction, in the planning stages, or completed. 
Washington Park Pickleball Complex
Duensing Field in Washington Park will be renovated into a dedicated outdoor pickleball complex. Design development and construction document services were approved at the December 2022 JC Parks Commission meeting. Deliverables include court hardscape and softscape plans; signage design locations; pickleball area features and materials cut sheets, landscape lighting and fixtures selections. As of September 2023, plan and design are complete; bid documents are being drafted.
Washington Park Bike Park
At the February 14, 2023, JC Parks Commission meeting, commission members approved the final design and construction of the Phase 1 bike park site plan in Washington Park. This phase includes an asphalt pump track, progressive jumps start mound, beginner jump line, intermediate jump line,  return line, and signage.
As of September 2023, the bike park plan is in the planning and design phase.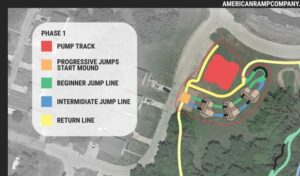 Jefferson City Botanical Garden Pilot Project
At the February 14, 2023, JC Parks Commission meeting, commission members approved landscape architectural professional services for design development and construction documents for the Jefferson City Botanical Garden Pilot Project at Ellis-Porter Riverside Park.
Work will begin in February 2023. Estimated completion of design development and cost estimation is May 2023. Construction documentation is expected to be complete in July 2023. 
Deborah Cooper Park Improvements
Development on Deborah Cooper Park on Adrian's Island continues since opening in December 2021. 
Restrooms TBD.
Light fixtures will be installed along the pathway.
Grant Street Improvements
City of Jefferson Department of Public Works and JC Parks made several improvements along Grant Street, the main entrance into Ellis-Porter Riverside Park. Work started early April 2022 and was complete in September 2022.
Project Elements
Construction of a sidewalk along the western side of Grant Street.
Sidewalk in the Park from the intersection of Grant Street and Ellis Porter Drive to the sidewalk near the pool.
Construction of numerous retaining walls.
Widening of Grant Street and a portion of Ellis Porter Drive to accommodate a central island approaching the park.
Stormwater inlets will be replaced near Hough Street and an inlet will be added near Lake Street.
The intersection at Grant Street/East McCarty Street and the intersection at Lake Street/Hough Street/Grant Street will be reconstructed to for ADA compliance.
The whole of Grant Street will receive an asphalt overlay.
Deborah Cooper Park on Adrian's Island
63 Diamonds Improvements
Several improvements were made at 63 Diamonds Sports Complex.
Additional concrete around the concession stand and home plate area on all fields,
Warm-up areas for pitchers
Exterior painting of concession stand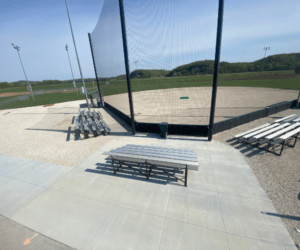 Hickory Adams Neighborhood Playground
Hickory Adams Park was damaged in the 2019 tornado. A complete renovation of the playground was completed in May 2023.
Washington Park Skate Park
Washington Park skate park will receive  repairs to concrete structures and several new obstacles, including half pipe, quarter pipe, bank ramp, pyramid corner, and grindbox. Anticipated completion is spring 2023.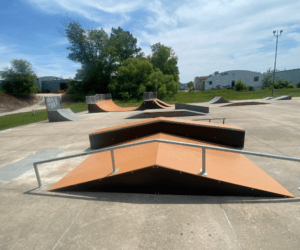 Outdoor Fitness Court
An Outdoor Functional Training Station (FTS) is a highly customizable multi-station built for year-round use in a commercial setting. MoveStrong blends the best of old-school calisthenics with the latest in Functional Fitness Training in an all-in-one station. Built to size and specific training features to accommodate any space and user abilities. Great for individual and group fitness boot camp-style workouts.
The outdoor fitness court will be located along the greenway at The Linc. Anticipated installation date is mid-May 2023.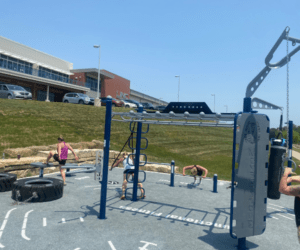 CRMU Amphitheater Improvements
The amphitheater and surrounding park will see the following improvements in 2023:
A permanent restroom building and enclosed storage facility will be installed in the multi-use plaza area.
Primary signage will be installed at the Grant Street park entrance and wayfinding signage will be located throughout the park.
Trail enhancements will better connect visitors from parking areas to entry gates.
Stage canopy hoist system.
Memorial Park Basketball Court
The outdoor basketball court renovation was completed in August 2023. The new 40′ x 80" court includes in goals and back boards. 
Binder Campground Wi-Fi
In July 2023, Binder Park campground received electrical upgrades, access points, and wireless bridges to provide Wi-Fi to all campground sites.
JC Park System Master Plan
The Jefferson City Parks, Recreation & Forestry Master Plan is a comprehensive plan for parks, trails, and forestry improvements throughout the JC Parks system.
Completed in 2018, it is the first of its kind in Jefferson City since 1952!
Included are:
Findings on the current state of our parks gathered through site analysis of each park, community profiling, a data-backed needs assessment, stakeholder interviews, and public survey.
Design concepts and rationale for each improvement project, with the estimated cost.
Maintenance assessments and recommendations.
An overview of plan implementation, which includes project order and funding details
Cultural Arts Master Plan
The City of Jefferson Parks, Recreation and Forestry Department has engaged Keen Independent to create a Cultural Arts Master Plan to guide the City in enhancing the community's quality of life through arts and culture. Keen Independent will conduct community engagement, benchmarking of similar cities and communities, an economic impact analysis and an analysis of strengths, weaknesses, opportunities and threats regarding arts and culture.
Community members may also participate in a virtual workshop. Similar to a survey, the virtual workshop takes about 10 minutes to complete and is available at qrco.de/bdiisS from March 1, 2023 until mid-April, 2023.
For those unable to participate in the public meeting or virtual workshop, Keen Independent invites individuals to provide input by doing any of the following:
The City of Jefferson Cultural Arts Master Plan will be completed in fall 2023. 
Active Transportation Plan
The Capital Area Active Transportation Plan will act as a guide and resource to improve safety, connectivity, access, and mobility for pedestrians, bicycle users, and other Active Transportation users in the Capital Area Metropolitan Planning Organization (CAMPO) planning area .  CAMPO staff will be working with consultants Crafton Tull and LaneShift on this exciting planning process over the next 15 months.  Funding for this project is provided via the CAMPO Consolidated Planning Grant (80%) and local match provided by JC Parks (20%).
The Active Transportation Plan's anticipated date of completion is fall 2023. 
Cost Recovery Study
JC Parks retained Berry Dunn McNeil & Parker, LLC (BerryDunn) in 2022 to conduct a Department Cost Recovery Analysis and Plan. The focus of the project is reviewing all revenue generated from user fees and charges for activities, permits, and services the Department provides and the identified expenses associated with providing all Department programs and services and issuing permits. This review will allow the City to make informed policy decisions at the aggregate level, as well as on each service and permit, regarding fee levels and revenue generation.
Ice Arena Feasibility Study
JC Parks engaged with Firland Management in 2021 to conduct a feasibility study for Washington Park Ice Arena. The one-sheet ice arena is an established facility that supports a strong user base with a wide variety of programming. It cannot meet some of the needs of the existing customers or introduce new programs due to unavailability of prime-time ice and its aging facility. This report examines current conditions and feasibility of expansion in this market. The recommendations
for an operating plan, facility program and preliminary capital costs are included with the feasibility analysis.