Deep breathing. Yoga. A quiet walk. Or simply sitting in nature. No matter your meditation style, JC Parks can help. Use this simple guide to choose the best time and spot for your mindful JC Parks moment!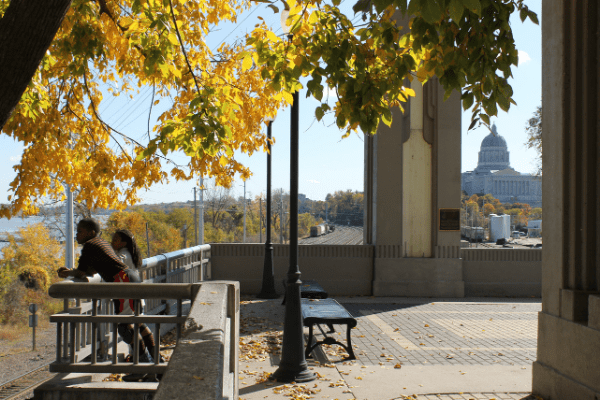 Choose Your Time
Morning
We find morning is the most peaceful and usually very quiet. Bring your coffee or tea to sip slowly as you watch the world wake up around you. Our parks open at sunrise.
Mid-Day
Late morning and the afternoon are great for a lunch break or when the kids need a change of scenery. Make your outing a mini event by packing a picnic to enjoy pre- or post-meditation.
Evening
Perfect for sunset lovers and decompressing at the end of the day, evening is a different kind of cozy. Arrive just before golden hour to take in the sun-bathed scenery. Our parks close at dusk.
Pick Your Spot
Meditation with Kids
If kids are coming along, it's always good to have a playground nearby, even if they plan to meditate too. We recommend these parks if you need to keep an eye on kiddos while grabbing some steps or deep breaths.
McKay Park: This parks has a large playground and walking path around the lake. It's great for an afternoon pick-me-up or stopping to watch the sunset.
McClung Park: Tucked away atop a hill, this is a more secluded spot to get some quiet – or get the wiggles out. We love the misty morning capitol views, but McClung is great for afternoon and evening meditation, too.
Ellis-Porter Riverside Park: You have a lot of options here. Go for a family walk on the fitness trail, watch the river from the overlook, or relax at a picnic table while they play tag on the playground.
Silent Meditation
While morning is best for catching a quiet moment, these spots are generally peaceful throughout the day.
Binder Park: Barring a sunny Saturday afternoon, it's easy to find some time and space for yourself in this 644-acre park. Walk Audubon nature trail, take a kayak onto the lake, or simply sit in the grass to put your mind at ease.
North Jefferson Recreation Area: When you want to stick your feet in the sand and look out onto the water, check out Joe Wilson's Serenity point at Carl R. Noren River Access. When a nice walk is what you need, start at the Katy Trail Spur and go as far as feels right.
Hough Park: Home to Oak Hills Golf course, this park also offers a lovely lake, walking paths, and park benches. Visit most any weekday to find yourself a peaceful place to walk, sit, or read.
Sweat-itation
If exercise is your favorite way to clear your head, try out these top spots to get active. With indoor and outdoor options, you'll have a way to preserve your meditation time year-round.
Fitness Trails & Loops: With trails throughout the city, you can find the length and location perfect for your routine. Cue up your playlist and walk, run, or bike to your mind's content.
Mountain Biking Trails: Want a biking experience that's a little more off-road? Explore our many mountain biking trails at Binder Park and Frog Hollow Nature Area.
The LINC: Our recreation and wellness center is open year-round. Pump some iron, take some laps around the track, or join an exercise class. No matter your style, it's a great place to work up a sweat.
Get Going
Once you know when and where, it's only a matter of going. We can help with that, too.
Greenway
If you would rather not drive to your meditation destination, try scouting a route on the Greenway Trail System. A safe alternative to busy city streets, this multi-use trail connects many of Jefferson City's parks.
Go Virtual
Sometimes you just can't get away, and that's okay. Our JC Parks Moments playlist on YouTube is full of beautiful, peaceful, and unexpected scenes caught in our very own parks. Kick back and watch or shut your eyes and listen to the nature sounds.
Share Your Meditation Spot
Once you've tried meditating in JC Parks, let us know how it went!
If you're willing to share your meditation spot with others, snap a photo and post on Facebook or Instagram using #JCParksMoments.