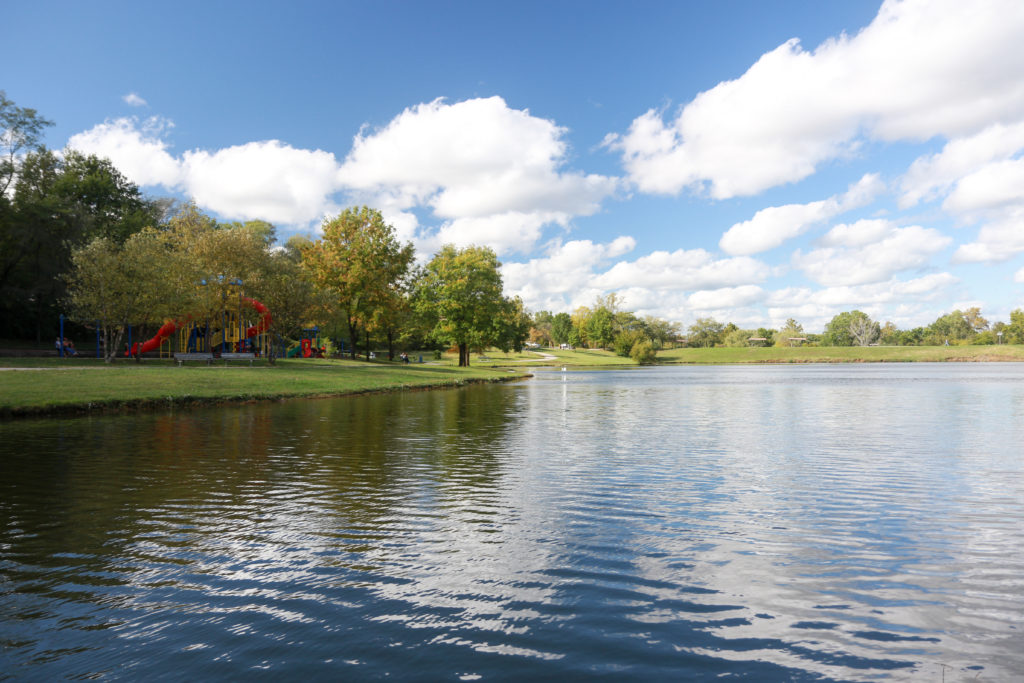 What are JC Parks Moments? They can be exciting or peaceful. They can happen in a crowd or when you're on your own. Any moment that makes you smile, lets you breathe, or helps you see the world a new way – That's a JC Parks moment. Explore these top places and programs to start adding to your collection today!
Can't get away? Enjoy a few moments in nature with our JC Parks Moments playlist on YouTube!
Tucked away on Jefferson City's East End, this hilltop haven serves up surprisingly striking views. Catch a unique glimpse of the state capitol building, explore the trees, or push your child on the swings. Even host your event. With its indoor and outdoor pavilions, McClung Park is perfect for moments big and small.
Jefferson City's largest park has room for a lifetime of moments. Bring your fishing bait, tackle the trails, or switch up your staycation at the campground. With lake activities, disc golf, mountain biking and more, Binder is a place for moments galore.
Home of Oak Hills Golf Center, Hough Park offers paved trails, lake views, and plenty of benches to rest and take in your surroundings. Whether you play a round of golf or go for a quiet morning walk, Hough Park is a lovely place to stock up on memorable moments.
4. Outdoor Recreation
Want someone to guide you on a moment-collecting journey? Turn to our adult and youth outdoor recreation programs for unforgettable experiences. Whether you choose camping, the ropes course, or Trek Adventures, you, your child, or your team will walk away with some sweet memories.
Play hard, work out, or sit back and relax. This 20.4 acre park packs plenty of moment-making opportunities into one. Enjoy the playground, fitness loop, or the large fishing lake – Known as Sunset Lake for the stunning hues reflected in the water just before dusk.
With more than 40 miles of trail throughout the JC Parks system, you're sure to find a few moments to savor! Whether it's finally mastering that mountain bike jump or marveling at the autumn leaves, we hope you find a path that speaks to you.
7. Sports Leagues
There's nothing quite like learning and growing as a team. Enter sports leagues! No matter your age or abilities, JC Parks leagues are a great way to share moments with friends, new and old. Fall leagues for youth, adult, and adaptive populations are now open for registration!
Did you know you can camp overnight in JC Parks? Make your way to Binder Park for sites with utilities. Or cozy up to Carl R. Noren Access for a primitive riverside camping experience. Fireside chats and staring at the stars are two of many ways to make your next JC Parks moment.
As the only public indoor ice arena in a 95-mile radius, WPIA is the perfect place to have wintertime fun, year-round! Whether you're watching your child skate or getting out on the ice for the sake of nostalgia, memorable moments flow freely at the ice arena.
From first concerts to finishing the race, unforgettable moments are what make our events special. Enjoy quality, family-friendly events throughout the year thanks to our wonderful community partners and staff. Explore our upcoming events, today!
Capture Your Moments
We'd love to hear all about your JC Parks moments! Share your experiences on Facebook or Instagram with #JCParksMoments to join the conversation.