As the weather cools off and the leaves start to change, it's a lovely time of year for new trail adventures. With over 40 miles of trail system in JC Parks, there are countless ways to get out and explore. It all depends on how much time you have!
While there are many more possibilities, this post outlines three fun experiences you can tackle in one weekend. Find a 2-hour, all day, and overnight option for your next hiking or biking adventure. Plus, a bonus consideration at the end!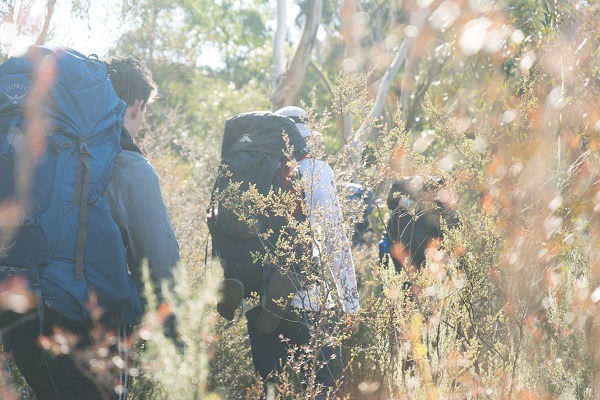 2-Hour Trail Adventure
Looking to change up your weekend routine? Take a couple hours (or less) to explore Frog Hollow Nature Trail! Conveniently located off the Greenway along West Edgewood Drive, you'll find 3.1 miles of trail. With three entrances and 6 different segments, you can customize your trail length to your needs.
Hike or Bike
While Frog Hollow is known for mountain biking, it's okay to hike here, too! We ask that all hikers and bikers be alert and respectful of other patrons while using the trail.
Quick Tips
Frog Hollow Nature Trail is not paved. Please plan gear like footwear appropriately.
There is a restroom located on the Greenway trail near the western-most trail entrance (where Wildwood intersects Edgewood).
Parking is available on Edgewood Drive just west of Highway 179 at 2953 W Edgewood Dr, Jefferson City, MO 65109
All Day Trail Adventure
Count on the Greenway Trail System when you want to fill your whole day! This multi-use trail provides a safe alternative to walking, running, biking, skating (and more!) on busy city streets. It also connects many JC Parks destinations, so you can spend the whole day exploring Jefferson City.
Stops Along the Way
Of course, you'll need to rest, eat, and play throughout the day. Depending on your route, here are some options to add to your adventure. All stops are accessible by the Greenway, connecting sidewalks, or bike lanes.
Washington Park – Home of Washington Park Ice Arena!
The Missouri State Capitol Building
Missouri River Bridge
Overnight Trail Adventure
You don't have to go far for a trail-focused camping trip. Binder Park, Jefferson City's largest park, has 15 miles of mountain biking and hiking trails, plus two walking trails. There are plenty of ways to create a fun-filled couple of days. And the beauty of taking your trip to Binder? You never have to leave the park!
From full utility RV camping to a simple tent set-up, you can make your reservation up to a year in advance at the Binder Park campground.
Hike or Bike
Like Frog Hollow, Binder Park trails have been popularized in the mountain biking community, but they are great for hiking as well! As always, stay alert and be respectful of others on the trail.
Other Fun Things at Binder Park
If hitting the trails isn't the only thing you want to do, you're in luck. You can add some variety to your trail adventures with any of these activities right in Binder Park!
Hayrides (Available in the Fall by Reservation)
Fishing
Boating (Motorized and Non-Motorized)
Radio Control Flying (Designated Area)
Disc Golf (Two 18-Hole Courses!)
High and Low Ropes Course (By Reservation)
Sand Volleyball (By Reservation)
Bonus: Any Length Trail Adventure
Looking for a trail adventure that's completely customizable to your desired length? Start at the North Jefferson City Katy Trail Spur! From here, you can access Missouri's Katy Trail. This 240-mile trails stretches across the state from Machens, MO to Clinton, MO with lots of fun stops in-between.
Take a short stroll or embark on a multi-night adventure. No matter how long your journey, this is a great place to begin!
Share Your Trail Adventures
Don't forget to snap a few photos along the way! Tag us and share your JC Parks trail experience on Facebook or Instagram with #ExploreJCParks so we can see, too!